HERE, NOW, AND BEYOND WITH CHRIST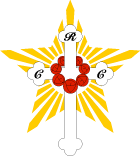 The Year 2002 Summer School Commitee invites you to participate in the forthcoming Summer School
session beginning July 22 and ending August 9, 2002.
Based on this year's Summer School theme of HERE, NOW, AND BEYOND WITH CHRIST, the calasses will be centered around our textbook The Rosicrucian Cosmo-Conception, including Rosicrucian Beginning and Advanced Philosophy, Western Wisdom Bible Interpretation, Health and Healing, and Spiritual Astrology.
Classes will be presented daily Monday through Friday. Inspiring evenings presentation will also be given.
These classes and presentation will seek to guide you on the Path of Preparation and to open your mind and heart into expanded Christed Consciousness.
All classes are open to the public. Our classes as well as our correspondence courses are given on a love-offering basis in accordance with the Rosicrucian precept of "Give as the heart dictates and the means permit".
For overnight guests, accomodations are available at our Guest House. please make your inquires concerning Guest House rates and or additional information or reservations at your earliest convenience, as the Guest House accomodations are limited. no reservations are necessary to attend any of the daily or evening classes.